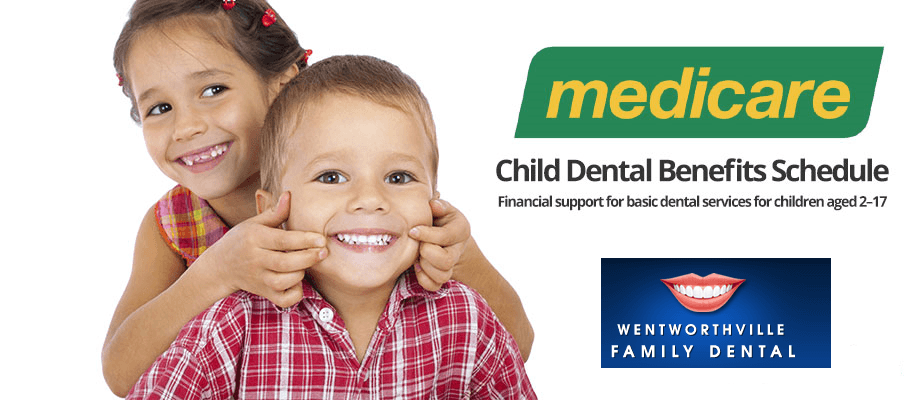 Child Dental Benefits Schedule
The Child Dental Benefits Schedule (CDBS) commenced on 1 January 2014 and provides access to benefits for basic dental services to around 3.4 million children aged 2-17 years. The total benefit entitlement is capped at $1,000 per child over a two calendar year period. The CDBS has a means test, which requires receipt of Family Tax Benefit Part A (FTB-A) or a relevant Australian Government payment.
Who is eligible for dental services under the Child Dental Services Benefits?
Eligible families will receive written notifications from the Australian Government from early 2014, alternatively call us on 8677 1021 to check your eligibility.
For more information visit our page:
http://www.wentworthvilledental.com.au/medicare-bulk-billing/medicare-child-dental-benefits-schedule
What dental services will the Medicare Child Dental Benefits Scheme cover?
A comprehensive range of dental services will be covered, including dental assessments, X-rays, preventive services, extractions, fillings, restorative work and dentures. Eligible children and teenagers may access Medicare benefits of up to $1000 in total over two consecutive calendar years for dental services.

At Wentworthville Family Dental we bulk bill Medicare with No Gap (No out of pocket co-payment) for your convenience.
For more information about the ceased Medicare Teen Dental Plan & new Child Dental Benefits Scheme visit the Department of Health website:
http://www.health.gov.au/internet/main/publishing.nsf/Content/childdental
What dental services will Medicare cover Adults for in private clinics?
Currently there is no Medicare plan to cover adult's dental treatment in private dental clinics.The government has announced the closure of the Medicare Chronic Disease Dental Scheme (CDDS) from 1 December 2012. The National Partnership Agreement on Public Dental Services for Adults to provide the states and territories $242.5 million from 1 January 2017 to 30 June 2019 for additional services to around 400,000 adult public dental patients in Public Dental Hospitals Clinics (eligibility criteria applies http://www.health.nsw.gov.au/oralhealth/Pages/eligibility.aspx ). For further information about all Medicare Dental Services please visit the Department of Health website:
http://www.health.gov.au/internet/main/publishing.nsf/Content/dental-1
Medicare Veterans Affairs Dentist
All Australian War Veterans Gold Card Holders will receive unlimited 100% NO-GAP Bulk Billed Dental care at Wentworthville Family Dental. Annual monetary limits apply to some advanced restorative services such as crowns, bridges and implants subject to the Department of Veterans Affairs terms and conditions.
Visit our Medicare Veterans Affairs Dental Plan Page for more information:
http://www.wentworthvilledental.com.au/medicare-bulk-billing/medicare-veterans-affairs-dental-plan